---
LIVING SHORELINES
---
OceanWatch Australia is helping NSW coastal communities turn old oyster shell into living shorelines in an Australian first.
Shellfish reefs once formed the backbone of many temperate & subtropical estuaries, and whilst small populations continue to exist in most bays and estuaries, these are only a small fraction compared to the numbers seen pre-European settlement. In New South Wales, researchers estimate that over 99% of natural shellfish reefs have been lost due to pollution, sedimentation, disease and habitat loss or degradation from coastal development.
Working alongside engineers and ecologists, we're focused on balancing shoreline protection and habitat creation by designing "living shorelines". These living structures support, rather than degrade the surrounding ecosystem. We believe in reducing the use of plastic and plastic fibre products in marine rehabilitation projects, and so are trialling the use of 100% natural, biodegradable materials in this project.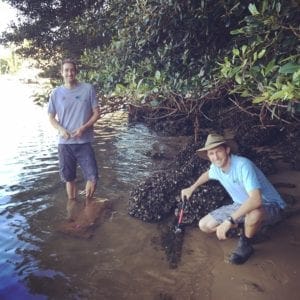 In NSW it is estimated that the hospitality sector generates over 3,000 tonnes of oyster shell every year. This is destined for landfill.  Additionally, there is also a considerable volume of shell that is produced on oyster farms as a result of natural mortality during commercial cultivation.
The "living shoreline" concept all starts by taking old shell and bagging in coir (coconut fibre) mesh bags. These are then strategically pegged on eroded shorelines, providing a home for a multitude of other marine animals, and a surface on which free-swimming oyster larvae can settle. In areas where spat supply is likely to be limited, the bags may be seeded prior to installation. Over time, the oysters grow together to form a reef, and the coconut fibre breaks down.
It is unknown how long it will take for the oysters to form a structured reef, or how long the coir fibre bag will take to degrade. These are key questions to be investigated through the trial, and will vary depending on location.
This program is a huge opportunity to develop a process through which old shell (essentially a waste product) can be treated, bagged and used to enhance the natural environment. It also provides universities with research opportunities and an excellent avenue to engage local communities in environmental works. Recreational fishermen, commercial fishermen, oyster farmers, Landcare groups, landholders, state government agencies, indigenous stakeholders, natural resource managers, local councils and hospitality heavyweights have all been engaged in the trial.
Take a listen to this ABC radio interview explaining how the living shorelines program works.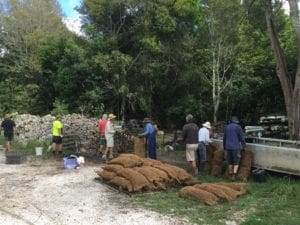 Funding support has been provided by the Australia Government, Sydney Coastal Councils Group, Greater Sydney Local Land Services, Landcare NSW and the NSW Recreational Fishing Trust.
Learn more about the habitat value of Sydney rock oyster reefs.
To find out how you can get involved please email: livingshorelines@oceanwatch.org.au
We would also like to acknowledge the assistance of the following sponsors: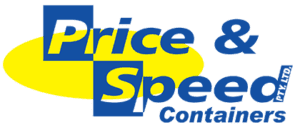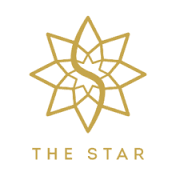 ---
TANGLER BINS
---
Tangler bins are designed as a practical environmental solution for the recovery of lost recreational fishing line that litters recreational fishing hotspots.
An accompanying education/information campaign aims at encouraging the prevention of fishing litter and associated impacts on wildlife and habitat, including:
Death and injury to fish, birds and other wildlife

Fish habitat degradation

Pollution of the marine and coastal environment

Reduced quality recreational fishing experience.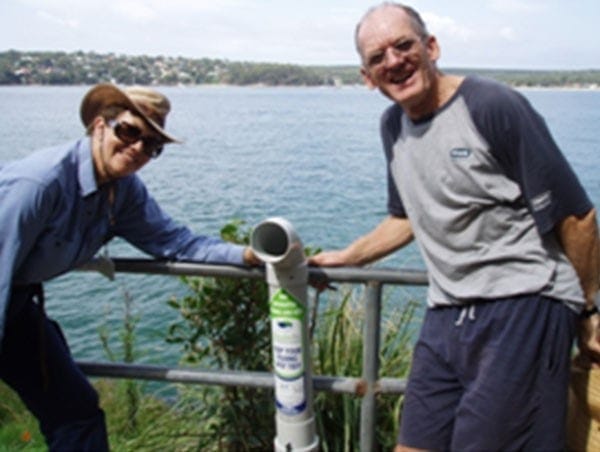 OceanWatch has partnered with many groups including Gladstone Ports Corporation, the NSW recreational fishing industry, DPI Fishcare Volunteers, local fishing clubs, bait and tackle shops and local councils to install TAngler bins.
Since 2006, more than 350 TAngler bins have been installed in key coastal locations in Victoria, NSW and Queensland where lost and littered fishing line is most prevalent. Since commencement, the project has collected more than 10 tons of discarded fishing line.
OceanWatch continues to seek funding to target specific hot spots however interested Councils, land managers or volunteers can also request to purchase individual bins direct from us.
TAngler bins cost $125 plus postage (worked out on your order size and location) plus GST.
Cost includes postage of constructed bins, generic TAngler sticker with space at base for additional logos, stainless steel bracket attachment mounts to attach to a pole.
An Information leaflet, promotional posters for bush shelters and a huge 1.8m unit for promotional use (see below) are also available for functions at minimal cost.
Please inquire (02) 9660 2262.
---