OceanWatch has been working in the bushfire space since mid-2020, compiling recommendations for protecting fish habitat post-bushfires, and building mapping tools to plan appropriate responsive actions. Most recently, we have been focusing on assessing and restoring mangrove forests destroyed by the Black Summer bushfires, and running community resilience events in Southern NSW.
A natural sequence of events occurs following bushfires, seeing ash high in nutrients entering streams and oceans with rainfall. This and other processes can lead to outcomes very unfavourable for our aquatic life often resulting in migration to better water if possible, extreme animal stress or fish kills. Expanding human development activities, and climate change reduce the resilience of aquatic habitats, therefore the impacts of a bushfire can be even more severe than they naturally would be, not only at the time of the fire but in the days, weeks and months post fire.
Through our bushfire recovery initiatives OceanWatch has taken an in-depth look at the impacts of the 2019-20 bushfires on marine and freshwater environments.
SPATIAL THINKING: MITIGATION OF BUSHFIRE IMPACTS ON OUR MARINE ENVIRONMENT
OceanWatch has compiled a series of recommendations for protecting fish habitat post-bushfires in a Fish Habitat Protection Protocol, which will be available in coming weeks. As part of this project, OceanWatch also set up six mapping tools tailored to 6 regions of Australia that experienced severe fires and downstream coastal impacts. Using this information, communities can learn, discuss, and plan appropriate responsive actions focused on improving the outcome for fish habitats.
These maps are a collection of publicly available spatial data layers relevant to the 2019-2020 bushfires and their impacts to aquatic environments in each of the six focus regions of the 'Spatial Thinking' project. These layers will help put in context any impact observed downstream from fire grounds, collected through the OceanWatch Australia bushfire impacts survey. These spatial tools are best used in conjunction with consultation of the Fish Habitat Protection Protocol.
This project has been supported by the Australian Government's Bushfire Recovery Program for Wildlife and their Habitat.
WALKING THE LANDSCAPE TO INCREASE COMMUNITY CAPACITY AND CAPABILITY FOR BUSHFIRE RESILIENCE
This project will aid the recovery of communities in the South Coast of NSW affected by the 2019-2020 bushfires, by offering the opportunity to participate to a Walking the Landscape tour. These tours will take community members on a journey of connection to local waterways, by visiting local estuaries and rivers that have suffered or are still suffering from bushfire impacts. The tours will bring together people with different backgrounds, so that they can connect over their recovery experience, while learning more about impacts of bushfires to aquatic environments, as well as practices one can employ to minimise these impacts. A participant in a Walking the Landscape tour will go home with an increased knowledge and understanding of local aquatic ecology, bushfire-caused changes to these environments, recovery measures that can be used to minimise negative impacts of bushfires to aquatics, as well as an expanded local network. The tours will run from early 2022 along the Shoalhaven, Clyde, Tuross, Bega, and Towamba rivers.
This is a Bushfire Community Recovery and Resilience Fund project through the joint Commonwealth/State Disaster Recovery Funding Arrangements. Although funding for this product has been provided by both the Australian and NSW Governments, the material contained herein does not necessarily represent the views of either government.
POST-BUSHFIRE MANGROVE RECOVERY: COMMUNITY-LED EFFORTS IN THE NSW SOUTH COAST
Mangroves are essential habitat where many aquatic animals live, feed and breed, including around 75% of coastal fishery catches, and they are invaluable for preventing coastal erosion. Unfortunately, mangroves were destroyed in several NSW locations by the 2019-2020 bushfires. In partnership with MangroveWatch and Budd Island Landcare Group, OceanWatch is building the capacity of local oyster farmers and volunteers within the community to repair damaged mangrove habitats. The project is building local teams of "Mangrove Watchers' to monitor mangrove health, and trialling assisted mangrove restoration techniques, such as planting seeds or seedlings and installing informative signage on recovering banks. The project is focusing on burnt mangroves in the Clyde, and Wonboyn rivers of the South Coast of NSW.
In the Clyde River the team has collected over 800 mangrove seedlings from the river and has now planted 550 of them into the damaged areas. The remaining seedlings are being housed in our mangrove nursery and will eventually be planted into the damaged areas.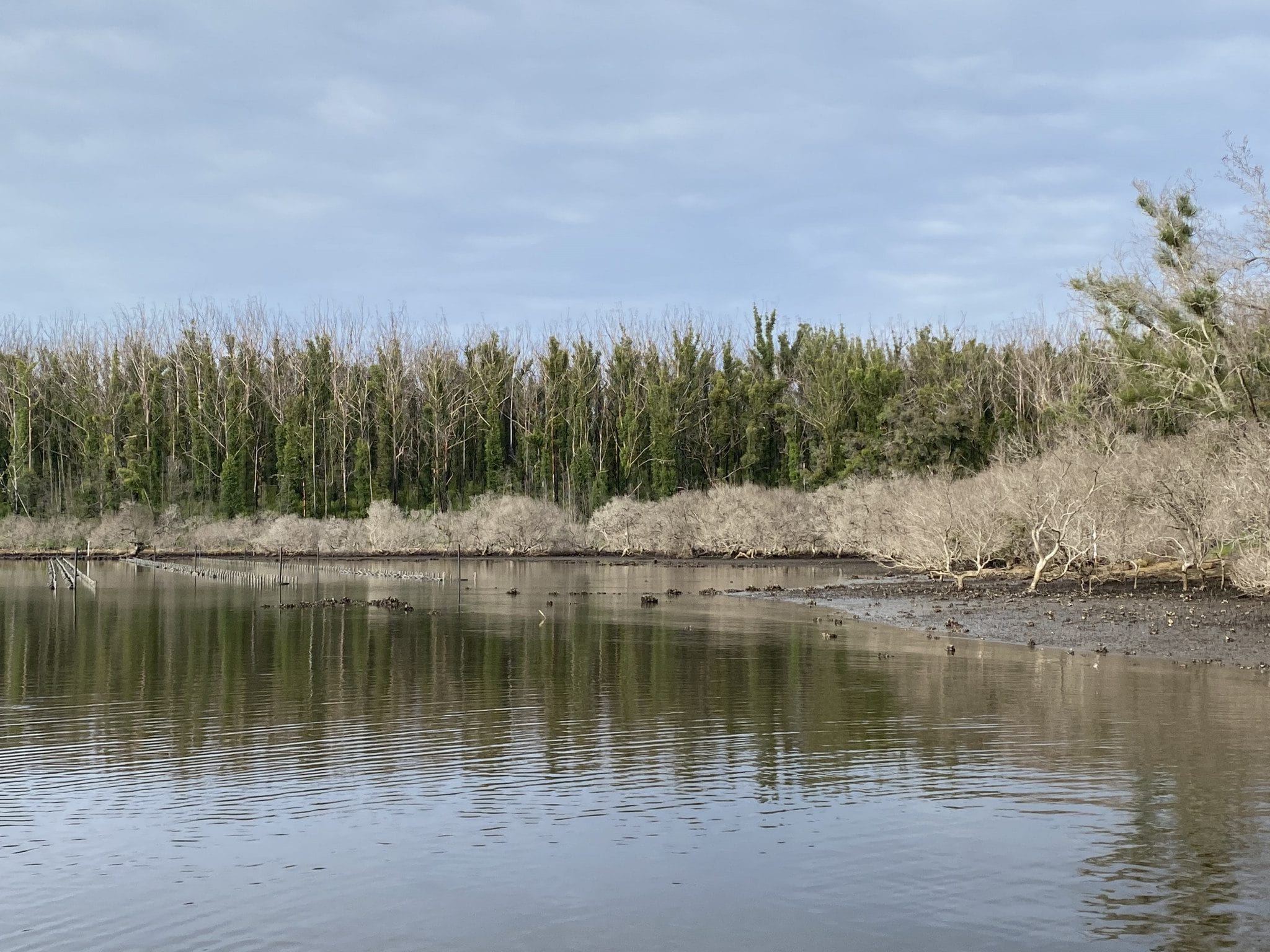 This Landcare Led Bushfire Recovery project is supported by the Australian Government's Bushfire Recovery Program for Wildlife and their Habitat.
For more information about OceanWatch projects on bushfire recovery, please reach out to claudia@oceanwatch.org.au