About Us
---
OceanWatch Australia Ltd is a national not-for-profit environmental company that works to advance sustainability in the Australian seafood industry.
---
OceanWatch's key activities involve:
enhancing fish habitats and improving water quality in estuaries and coastal environments;

working with industry and local communities to minimise environmental impacts;

introducing industry and communities to sustainable technologies and behaviours.
Since its establishment in 1989, OceanWatch Australia has managed and administered a broad range of successful projects to improve environmental practices, protect threatened marine species, reduce by-catch, introduce sustainable technologies, change behaviours and restore important marine habitats.
To achieve these positive outcomes, OceanWatch Australia works in partnership with the Australian seafood industry, federal and state governments, natural resource managers, private enterprise and local communities.
In 2013, delivering on an election promise of further developing Australia's sustainable fishing sector, Minister for Agriculture, Barnaby Joyce recognised OceanWatch as the NRM organisation with responsibility for enhancing fish habitats and the marine environment.
OceanWatch Australia Corporate Plan 2015/2020
OceanWatch Australia 2016-17 Audited Financial Statements.
---
Meet Our Team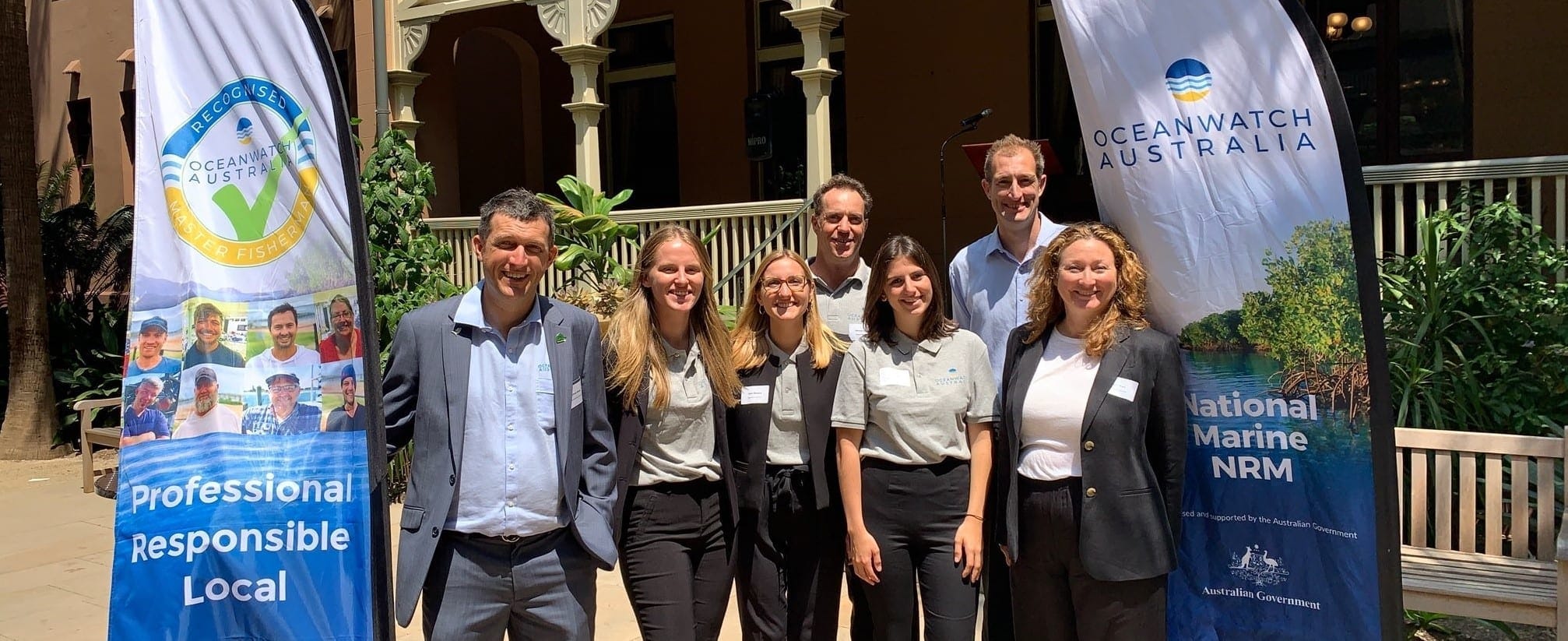 OceanWatch team: Simon Rowe, Siobhan Threlfall, Claire Denamur, Michael Wooden, Emilie Swan (Intern), Andy Myers, Lowri Pryce.
OceanWatch Australia employs a variety of staff in our office with specialty knowledge and training. Currently we have 7 core staff members contributing to a range of environmental programs and community outreach.
OUR STAFF
Lowri Pryce
Executive Officer
OceanWatch Staff since 2007
With a background in social and corporate partnerships, environmental management and program design, Lowri has a deep commitment and over 20 year experience in working with industry, community and governments to create positive, sustainable behaviour change.
Simon Rowe
Program Manager Environment
OceanWatch Staff since 2005
Simon has over 16 years experience working with Primary Industry and community in the fields of Landcare and Natural Resource Management. He is a graduate of the National Seafood Industry Leadership Program 2009 and is active in areas including the NSW Fish Habitat Partnership, Great Barrier Reef Wetlands Network, Australian Culvert R&D Initiative and Georges River Combined Councils Committee.
Michael Wooden
Program Manager Wild Catch Fisheries
OceanWatch staff since 2007
Michael has over 19 years experience in the Australian seafood industry. He has over 10 years experience in commercial and recreational fisheries research. Michael joined the OceanWatch SeaNet fisheries extension team in 2007.
Michael is a graduate of the National Seafood Industry Leadership Program 2012.
Andy Myers
Program Manager Aquaculture
OceanWatch staff since 2009
Andy is a graduate of the National Seafood Industry Leadership Program. He has a particular interest in water quality, and has a background in marine science and coastal management. Andy works with the aquaculture sector to implement best-practice on farm, and with landholders and land-managers to improve catchment management.
Nina Prokhorova
Accounts Officer
OceanWatch staff since 2018
Nina has a diploma of accounting from TAFE Sydney and has more than 19 years' experience in accounting in the development and construction industry. She is the office fixer who keeps all the finances and bookkeeping of the organisation.
Siobhan Threlfall
Project/Communications Officer
Siobhan joined OceanWatch in September 2019, she has an interest in the social and ecological dynamics of coastal and marine management, her background is in marine science research.
Claire Denamur
Project/Administration Officer
Claire joined OceanWatch in October 2019, her background is in environmental project management. She has a particular interest in the impact of food production supply chains on the environment.
Claudia Santori
Spatial Project Officer
Claudia joined OceanWatch in September 2020, with an academic research background in ecology and management of aquatic species. She has a keen interest in spatial mapping, wildlife conservation and scientific outreach.
---
THE OCEANWATCH BOARD
OceanWatch Australia's voluntary directors guide the organisation's strategic direction and oversee governance. Our current directors bring with them a wealth of experience and expertise in areas including:
executive management/leadership in the seafood industry

natural resource management policy and practice at regional and national scales

environmental sciences, especially relating to fisheries and aquaculture

communications, media relations and marketing

public policy and management of government-industry relations

fisheries research, development and extension

natural resource economics and social sciences

financial management and fundraising

Indigenous issues

corporate governance
---
DIRECTORS
Geoff Blackburn (Chairman)
Professional Fisherman
Director since October 2003
Geoff has been a professional fisher since 1977. He is a director of NSW Catcher's Trust, Coffs Harbour Fisherman's Co-op and the Professional Fisherman's Association. Geoff is a graduate of the National Seafood Industry Leadership Program 2004 and is a strong advocate for building a better future for Australian seafood by strengthening partnerships with government, resource managers, business and local communities.
Robert Gauta
NSW Fishermen's Co-operative's representative
Director since 2014
Robert is a former professional fisherman who has formal qualifications in business, and is the General Manager of the Commercial Fisherman's Co-op. He is currently a director of the Federation of NSW Co-operatives.
Craig Aspinall
NSW Office of Fair Trading
Director since October 2005
Craig is an aboriginal man from the lower north coast of NSW who has devoted his private and working life to the natural and cultural values associated with the marine environment. He holds a number of university and VET qualifications and is a graduate of the Australian Institute of Company Directors.
Kerry Strangas
Representative Director – Master Fish Merchants' Association of Australia
Kerry has been a Sydney based seafood retailer since 1975 and Chairman of the Master Fish Merchants' Association of Australia since 2005. He is also a Director of the NSW Fishing Industry Training Council, and a representative on the FRDC Fish Names Committee and NSW Food Authority Seafood Industry Forum.
Doug Ferrell
Director, Fisheries Analysis – NSW DPI Fisheries
Director since 2012
Doug grew up and studied marine ecology in the Pacific north west of USA. He has worked in fisheries ecology and assessment for two decades and is currently working in fisheries management for the NSW government.
Claire Webber
Researcher – Australian Southern Bluefin Tuna Association
Director since 2016
Claire has professional qualifications in marine resource management and aquaculture and has experience working with science, government and industry. She is a graduate of the National Seafood Industry Leadership Program 2012 and the Australian Institute of Company Directors.
Claire was recognised as the National Young Achiever at the 2015 Australian Seafood Industry Awards.
Renee Vajtauer
Business Owner – The Fish Shoppe
Director since 2019
Renee is an Industry association executive with a demonstrated history of working in the fishery sector. She holds her MBA and Bachelor of Marine and Freshwater Biology.
Renee also sits on the FRDC Fish Names Committee.
---
Awards
OceanWatch Australia is a well respected and credible company that delivers effective outcomes and has received national and international recognition for our work, particularly relating to the introduction of sustainable fishing gear and other new technologies.
OceanWatch has won a number of national and international awards and is working to have the seafood industry recognised and integrated into regional natural resource management processes across Australia.
View testimonials from community and industry
Our SeaNet extension service achievements are many – see our 10 years of achievements brochure.
---