On the banks of Kissing Point Park in Sydney school children and community members took to the habour side to keep Australia's environment beautiful.
The clean up area is a natural hot spot with mangroves and endangered salt marsh homing many species of birds and marine creatures. Unfortunately the location is also littered with rubbish of all descriptions coming in and out with the tide. Luckliy we were joined by 35 young kids aged between 9 and 10 years old some even from the schools environmental club which made the day all that little bit more exciting for the young nature enthusiasts.
Also joining us was Ian Kiernan founder of Clean Up Australia Day,Sony, Clean Away, Sydney Fish Market (event sponsor) and of course us OceanWatch Australia.
Volunteers lined the beach helping the kids through the event finding many interesting materials such a luxury boat deck cushion washed up on the shore. Children spent one hour on the beachside, collecting 16 bags of rubbish a big haul for such a short period of time.
After the clean up wrapped up the energy was still high kids left the park en route to Sydney Fish Market for the second half of the day where they would meet professional Australian Fishermen learning about marine plastics and life on the high seas.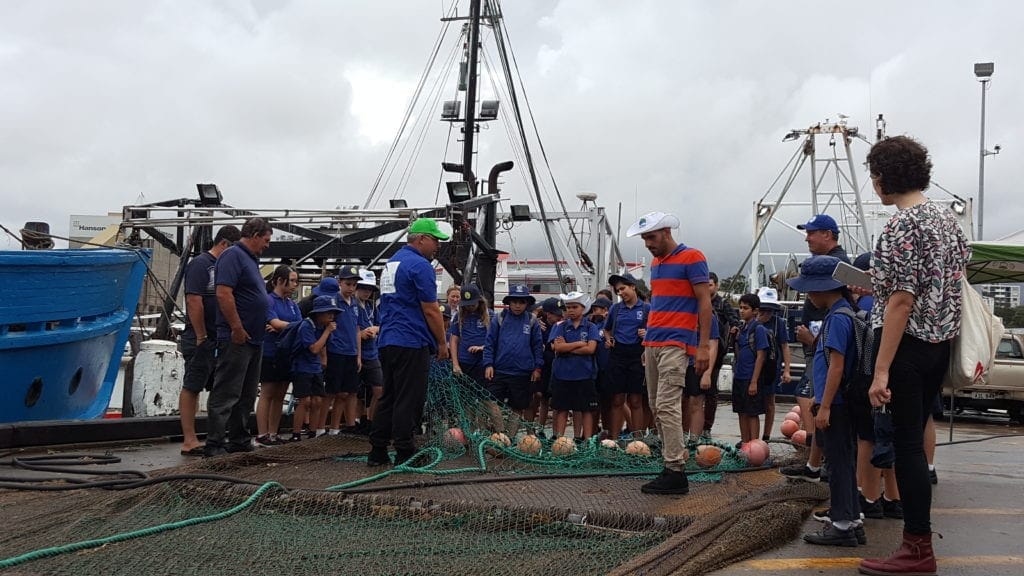 Children lined the dockside and were introduced to the Captain of the Cape Conway Diego Bagnato who encouraged the kids to be careful with their rubbish as they encounter a lot of trash in the ocean when they are out fishing. The Kids were eager to learn more about how the fishermen operate and were introduced to different fishing methods and learned about the commercial boats catch fish.
It was a great day and OceanWatch Australia thanks everyone who was involved!