Oyster growers have once again shown their commitment to keeping our waterways clean and healthy in the fourth annual Tide to Tip clean-up event in February 2023. Since 2020 oyster growers from across NSW and interstate have been working together with local community groups to clean-up their estuaries and foreshores, removing tonnes of marine litter each year. This year, the event was bigger and better than ever, with 20 clean-ups and 211 volunteers removing a whopping 11870kgs of marine debris from estuaries and beaches across NSW and interstate.
The volunteers collected all kinds of rubbish, from plastic bottles and cans to tyres and staircases. Some of the most bizarre items found were a toilet and an oyster covered gumboot and a Santa toy hanging in the mangroves. The volunteers also submitted data on the types and amounts of debris they collected to the Australian Marine Debris Initiative (AMDI) database run by Tangaroa Blue, a national organisation that works to prevent and reduce marine pollution.
Across the 4 years of Tide to Tip we have managed to removed over 42 tonnes of rubbish from our estuaries, completing 73 clean-ups across NSW, QLD, and WA. To thank the volunteers for making this initiative possible, we also held a competition this year with three categories: the largest clean-up, the most bizarre item, and a random entry prize.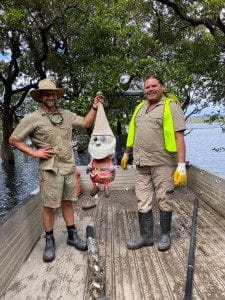 We would like to thank Clean Up Australia for providing clean-up kits again this year, and Toby's Estate Coffee for donating their coffee bags to the clean-up effort. Tide to Tip is a great example of how oyster growers are not only producing delicious and sustainable seafood, but also contributing to the health and of our environment.
Thank you to everyone who joined us for Tide to Tip 2023. We hope to see you again next year for another successful clean-up event!