Carp are one of the most destructive introduced pest species in Australia and have caused major damage to native fish populations and the water quality of our waterways.
But for commercial Carp fishers John and Peter Ingram business is booming and their efforts have a positive effect on the local environment. Father and Son duo Peter Ingram and John Ingram, are involved in capturing the Carp using Electro Fishing equipment, which puts a low voltage electrical pulses through the water.
They have been Carp fishing for 3 years in this manner and the species has been in the area for a long time. "We mainly work in the river systems and lake systems in the whole of Victoria we centre our fishing around Gippsland, Victoria and sell fresh Carp to Sydney and Melbourne wholesale fish markets." Said John Ingram
As the problem with Carp is currently a national discussion, this family are doing more to fight against Carp than any other plan in action. They take 250-300 tonne of Carp out of Victoria and NSW waterways each year which some say has a very positive impact on the health of the waterways.
However with the Australian Government's $15m National Carp Control Plan (NCCP) looming. There is the proposed large-scale release of Cyprinid herpesvirus 3 to biologically control Carp throughout the country. This leaves the lngram's like other Carp fishers in SA and NSW in uncertain waters.
Where are carp in NSW?
The distribution of Carp in NSW now includes most of the Murray-Darling Basin as well as many coastal river systems, particularly in the central section of NSW from the Hunter in the north to the Shoalhaven (including the Southern Highlands and Tablelands) in the south. Carp are now the most abundant fish species in many NSW rivers, accounting for 90% of the fish biomass (total weight of fish caught) in some areas of the Murray-Darling Basin.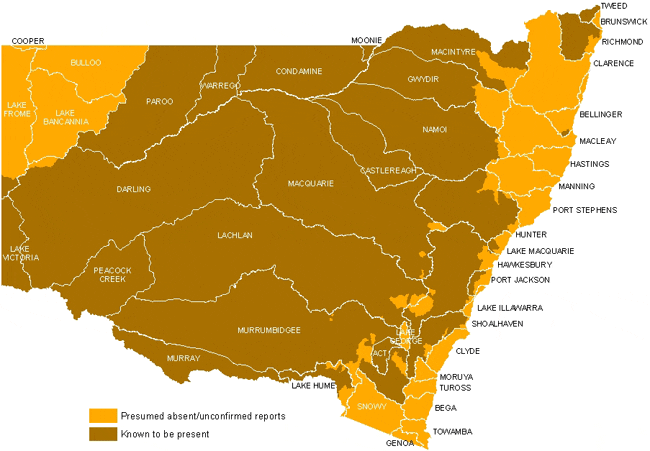 Photo Courtesy of DPI NSW
How did Carp get here?
Carp have been introduced into Australia both deliberately, in an attempt to imitate the European environment, and accidentally, through the escape of ornamental or aquaculture fish.
What are the impacts of Carp?
Because of their adaptability, carp have been very successful in their colonisation of new environments.
Carp are widely believed to have detrimental effects on native aquatic plants, animals and general river health, particularly through their destructive feeding habits.