---
SALMONIDS
---
Salmonids (Atlantic salmon and rainbow trout) are the largest contributor to the Australian aquaculture industry, accounting for roughly 50% of production by volume (~43,000 tonnes annually). Worth $0.5 billion every year it also accounts for 50% of our aquaculture production by value.
Most Salmonid production occurs in Tasmania, with the industry experiencing rapid growth in recent years. To keep up with growing demand, salmon producers are looking to double production volumes by 2030.
Atlantic salmon is not native to Australia, so land-based hatcheries are used to manage juvenile development until they are ready for deployment in sea cages. Tasmania prides itself on its clean, green image and Tasmanian salmon producers maintain these values, employing world's best practice in their farming techniques.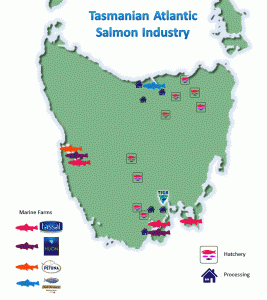 ---
FARMING METHODS
---
PEAK BODIES
---
FURTHER INFORMATION
---