---
SEAFOOD INDUSTRY PROGRAMS
---
Oyster Industry Waterway Clean-up 2020
During the week of the 17th of February 2020, OceanWatch is coordinating the Inaugural Oyster Industry Waterway Clean-Up week. Many oyster farmers already participate in estuary clean-ups throughout the year, with some of these events picked up by local news. By coordinating these clean-ups to occur within the same week – we can support each other, and scale-up media opportunities to highlight the efforts of the oyster industry on a national scale. Currently there is expressions of interest from oyster farmers across 17 estuaries in NSW, and 7 oyster producing regions interstate. The model for a clean-up is easy to replicate, and local growers can decide if they want to run this as an industry only event, or partner with the local community or other local groups.
Learn more about the Oyster Industry Waterway Clean-Up Week.
---
OceanWatch Master Fisherman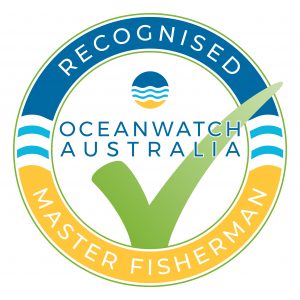 The OceanWatch Master Fisherman program is formal training and assessment for professional fishers.
Recognised OceanWatch Master Fishermen are continuing to raise the standard of responsible fishing in Australia.
OceanWatch Master Fishermen are committed to responsible and sustainable individual fishing practices, going above and beyond the requirements prescribed by state, national and international regulations.
Learn more about the OceanWatch Master Fisherman Program.
---
Oyster Environmental Management Systems
The EMS (Environmental Management System) process, is a program in which oyster farmers undertake a risk assessment to identify hazards affecting both the water quality and the growth of their oyster farm produce.
OceanWatch was responsible for securing and funding these EMS programs, helping farmers develop action plans to address high-risk activities impacting on sustainability.
Learn more about the Oyster EMS program.
---
Learn more about our completed seafood industry programs.
Learn more about our community programs.
---